Insomnia can be caused by various factors such as stress, anxiety, and chronic pain. Tossing and turning in bed all night does not give your body the much-needed rest, leaving you fatigued and yawning the next day.
CBD oil is increasingly finding itself at the centre of treating these conditions that cause insomnia. It's known to have anti-anxiety, anti-psychotic, and calming effects that help put the mind and body at ease. This, in turn, helps drift off, only to wake up refreshed the next morning.
In this article, we are going to focus on some of our favorite CBD oils for sleeping well, from some of the best suppliers in South Africa. We've listed a number of products to help you find the one most suitable for your needs.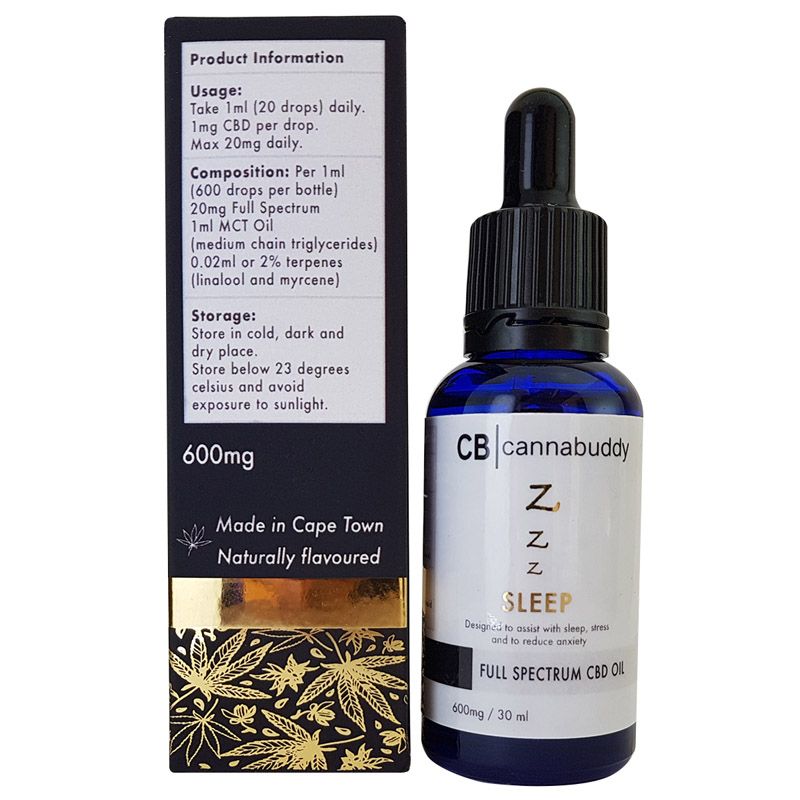 CBD For Sleep
A study was published in The Permanent Journal in 2019 that determines the relationship between CBD oil and sleep. Most patients reported a decrease in anxiety within the first month of using CBD oil and around 66.7% of them reported sleeping better.
Another study published in 2018 gives evidence of the effectiveness of CBD oil for sleep by alleviating pain. It talks about how cannabinoid-induced-analgesia acts upon aching muscles, producing therapeutic results.
CBD for insomnia is especially effective in treating REM sleep disorder in patients with Parkinson's disease, according to a study published in 2014. It prevents them from acting out their nightmares, facilitating undisturbed sleep.
Best CBD Oil For Sleep
It's advisable to speak to your doctor before you decide how much CBD oil for sleep is essential. These products are available in different sizes and dosages. Your physician is the best person to recommend the appropriate dosage for you.
The amount of CBD oil to be consumed depends on various factors such as age, the reason for consumption, sex, and underlying medical conditions. It is important to verify that CBD does not interfere or react with any other medication you might be on.
Cannabuddy 600mg Full-Spectrum CBD Sleep Oil
Cannabuddy 600mg full-spectrum CBD oil is designed to help put our body and minds in a relaxed state. this gives us the best scenario to get into a deep sleep. Caannabuddys sleep oil contains the natural occurring terpenes extracted from the cannabis plant. These terpenes are:
Myrcene and Linalool.
Myrcene has been used in history to help aid in sleep and promote a relaxed state, along with these calming and therapeutic effects.
Linalool has been used in traditional medicines for its sedative and anti-epileptic properties. This terpene helps activate our body resting state by activating our body parasympathetic response which gives us a relaxed sensation after we have eaten food.
Dosage
It is recommended not to exceed 20mg of CBD daily. This product contains 600mg of full-spectrum CBD with added terpenes in the form of Myrcene and Linalool to help promote a relaxed mind and body.
Take 1 ml (20 drops) daily
1mg CBD per drop
Max 20mg daily
600 drops per bottle
2% terpenes
Check Price
Africanpure Balance CBD 600mg
AfricanPure balance 600mg is the highest concentration product available at AfricanPure. Each drop of the oil provides a combination of coconut-derived MCT oil and organic Broadspectrum CBD oil in a high-strength combination.
The product acts as a muscle relaxant and provides instant pain relief. It's also known to ease the effects of a migraine. A 600mg dose is available in a 30ml bottle.
The oil promotes better sleeping by easing the discomfort caused due to muscle pain. It not only eases the symptoms of various illnesses but also helps speed up the recovery process.
Cibdol CBD Hemp Oil 2000mg
Cibdol CBD Hemp Oil 15% is one of the best CBD oils on the market. It is free from the use of growth hormones and is completely organic and natural. It acts as an analgesic by activating the same brain area as opioids, thus aiding the sleeping process.
The product has antipsychotic and anti-depressant properties, helping with anxiety and sleep issues. The CBD content in this oil is much higher than that in other hemp plants and must be consumed in consultation with your doctor.
Cibdol CBD Hemp Oil 2000mg is vegan-friendly and lactose-free, deeming it suitable for everyone.
Koi Naturals CBD Oil Spray Natural Flavour 1500mg
Koi Naturals brings to you CBD oil in its purest and rawest form. It provides a blend of CBD with coconut oil and is powerful, yet natural. While most other products on the market come in 30ml packaging, this product comes in a 60ml bottle.
Koi Naturals, unlike most of its competitors, comes in various different flavours, such as spearmint, natural, strawberry, orange, and lemon-lime. It helps with your insomnia while engaging playfully with your tastebuds.
Herbology CBD Oil Strong 1000mg
Herbology CBD Oil Strong 1000mg is the best CBD oil for anxiety. It can also be used for treating other health-related problems such as immune system support, in addition to improving general health. It consists of CBD extracted and blended with cold-pressed ozone-treated extra virgin olive oil.
The product contains next to nil THC and has proven to be effective in curing insomnia. It's anti-inflammatory and anti-depressant properties make it the perfect candidate for use while having trouble sleeping at night.
It is recommended to take 2-4 drops at least an hour before going to bed to get a good night's sleep. Don't forget to keep your doctor in the loop regarding the dosage you take.
Select CBD Drops 1000mg
Select CBD Drops 1000mg come in a variety of flavours, such as natural, peppermint, lavender, and lemon ginger. It's blended with coconut oil and essential herbs with no THC component, making it highly concentrated, yet non-psychoactive.
This 100% plant-based product is lower in dosage in comparison to the other products that we have reviewed, but it is on par with them in terms of quality. It's loved by customers and comes with a marked dropper that indicates the appropriate serving size for one dose.
Final Thoughts On Best CBD Oil For Insomnia
CBD interacts with the endocannabinoid system in the body, which helps regulate pain, pressure, appetite, and sleep. In some cases, it is known to be safer than over-the-counter drugs usually prescribed for insomnia.
Not only does CBD help you fall asleep, but it also helps stay asleep for longer. It is one of the most effective remedies for short-term use. However, additional research is needed to study its long-term effects.
There is no harm in resorting to supplements like CBD oil to induce better sleep, provided it is approved by your doctor and sourced from reputed vendors.